Crowns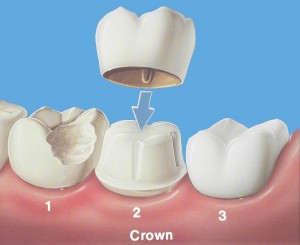 For patients who have chipped or broken teeth, dental crowns (caps) are a great choice. A dental crown is a restoration that covers the surface of your tooth, rebuilding it to its original size and shape. If your tooth cannot be restored by other types of restorations, such as dental fillings, crowns can effectively protect and strengthen your remaining tooth structure. Dr. Nolasco may recommend a dental crown for one or more of these reasons:
Your teeth have become broken, decayed, or fractured
It is the best way to enhance the cosmetic appeal of your smile
Your fillings are too large or have fractured
You need it to restore a tooth that's received a root canal
Your dental crown will be customized to perfectly match your natural teeth in shape, size, and color in order to provide you with the best cosmetic results and to restore your tooth's natural ability to function. Please give Time for Smiles Dental Center a call to learn more about enhancing your smile.